Welcome to Nursery; also known as Class Caterpillars! Mr Fidler is your class teacher and Miss Richardson, Mr O'Reilly and Miss Timmins are the other members of the Nursery Team. We can't wait to get to know your child and we look forward to sharing many new learning experiences with you throughout the year! Remember to follow us on Twitter @GSPSNursery and on Seesaw.
Our time in Nursery is always spent having lots of fun, exploring the indoor and outdoor environments. We aim to help your child become inquisitive, engaged and enthusiastic in their learning. Regular attendance is crucial in supporting your child to achieve this! Our doors open from 8:30 am (morning sessions) and 12:30 pm (afternoon sessions).
This year, we will be regularly 'checking in' and 'checking out' of our 'zones of regulation' to help us understand our own emotions and feelings. We encourage all parents and carers to talk to their children about how they are feeling and how they can become 'happy'.
Please ens
ure your child brings their school water bottle every day, filled with fresh water.  Learning in Nursery is thirsty work and therefore it is essential we stay hydrated!  Juice is not permitted in school and all water bottles must have a sports screw lid and clearly labelled with your child's name.
We will be spending lots of time outside, so please make sure your child comes to school with warm, waterproof coats and suitable footwear (wellies for wet days).
During winter, please ensure your child has a hat, scarf and a pair of gloves which are all clearly labelled with your child's name on. Ideally, slip on or velcro shoes are best – this way your child can become more independent when getting changed.
Remember to send your child to Nursery with a spare sets of clothes (socks, underwear, trousers, top, shoes etc.), especially if they are still learning to use the toilet independently. These spare clothes can be left in a bag on their peg until needed.
At Gwladys Street Nursery, we constantly promote independence.  Please continue this at home by encouraging your child to dress and undress by themselves and support them to independently fasten their zip.
Toilet Training
By three years old, children should be communicating their toileting needs. We would like to support your child to use the toilet independently if they are ready for do so.   If you need any support with toileting, please speak to a member of staff.
 Morning sessions start at 8.30am. Please arrive as close to this time as possible so no learning time is lost for your child. Your child should be collected at 11.30am promptly.
Afternoon sessions start at 12.30pm. Please arrive as close to this time as possible so no learning time is lost for your child. Your child should be collected at 3.30pm promptly.
Full day sessions start at 8.30am and finish at 3.30pm.  Children are able to either bring a healthy packed lunch or purchase a school meal. All children receive either water or milk at lunch time.
Thank you
Mr Fidler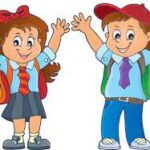 This page will be updated over the year, so please keep checking back.
Reception baseline information for parents
Supporting Early Language:
FS1
https://ican.org.uk/i-cans-talking-point/progress-checker-home/
https://www.nspcc.org.uk/keeping-children-safe/support-for-parents/look-say-sing-play/
https://hungrylittleminds.campaign.gov.uk/
https://www.bbc.co.uk/tiny-happy-people
Supporting Early Language:
FS1
https://ican.org.uk/i-cans-talking-point/progress-checker-home/
https://www.nspcc.org.uk/keeping-children-safe/support-for-parents/look-say-sing-play/
https://hungrylittleminds.campaign.gov.uk/